Check out these gorgeous images from our recent peacock themed bridal styled shoot! We collaborated with a fab group of wedding suppliers at the Winchester Guildhall for this quirky and fun photoshoot… We hope you'll love it and it will inspire your creative side!
We just loved pulling together this colourful shoot, for us it was important that whilst we created some beautiful pictures we needed to keep it real. Every aspect of these pictures and styling are all achievable for real weddings meaning you CAN create this look for your dream wedding.
Read on to find out what each of the different suppliers has said about their favourite photos…
SPIRAL EVENTS LTD – A TALE OF A PEACOCK FEATHER
Photograph by Joe Lillywhite Photography
As the idea of Peacock Boho expanded, so did our colour pallet and supplier list. The rich strong tones within a peacock feather meant that we were able to play around by adding vivid flashes of different colours that complemented each other without overdoing it and spoiling the overall look. Textures also became an important feature especially within the table set up, the soft silky table runner against the sprawling foliage worked wonderfully, working with Sarah Huxley from Black diamond weddings was awesome she immediately understood the brief and really managed to create a dynamic and interesting table with different heights and textures whilst making it relatable and achievable for couples on their wedding planning journey.
This scene was set in the King Charles Hall in the Guildhall Winchester, the hall itself is a dramatic space with huge chandeliers and beautiful windows and panelling, so we knew we had to do something special to work within such a beautiful space and create the next level image we had in our heads, that's where the models styling was key.
Our male model was styled by Kenneth from Slaters in Basingstoke who worked with us to find the perfect suits to bring the whole shoot together. We loved the idea of using coloured suits, we have more and more grooms asking about stepping away from the traditional black and grey so we were really keen to feature this, having Kenneth on hand to help with the styling was great. To style our female model we worked with Olivia George Bridal they have so many gorgeous gowns to choose from it was hard to know where to start, but Michelle and Carolyn knew exactly what to suggest. Although the blue gown was not used for all the images within this set, it created such a gorgeous shape and movement within this image that we instantly loved it!
Joe's understanding of angles and ability to capture the perfect non staged natural shot is remarkable.
Being able to coordinate so many people to work together on one project is tough, there's a lot to think about and organise and it takes a lot of time to make sure everyone's working towards the same goal (Just like a real wedding) but the end result is always worth it, and that's why we love what we do! From small intimate events to large weddings with an endless guest list our planning methods remain the same, we get to know our client and build solid relationships with trustworthy suppliers.

SPIRAL EVENTS LTD – ROMANCE MEETS BOHO
Photograph by Katherine and her Camera
When we started planning this photoshoot the only goal was to create a Fun and Relatable shoot with a very romantic candlelit ceremony. After many discussions and Pinterest searches that idea spiraled into what is now known as peacock boho.
Although the bold splashes of colour were hard to resist we knew we wanted to keep the ceremony stripped back, simple and beautifully romantic. We had visions of a real couple embracing each other amongst the candlelight. True love at its best.
The brickwork arches in the courtyard room of the Guildhall, Winchester were perfectly positioned for us to create a focal point, a delicate construction of lush greenery and simple white blooms was decided upon as the perfect backdrop for our embracing couple, whilst candle light would flicker at their feet.
We love Katherines ability to capture the intensity and realness of a single moment.
We believe this image captures our initial vision perfectly, we worked hard with several suppliers as well as Katherine to explain our aim and boy did they deliver. It's our job as wedding and event planners to be able to create, develop and deliver an initial concept brought to us by our clients. Every event is unique and it's the small details that really do make the biggest differences in the long run. That's why we pride ourselves on getting to know both our couples and our suppliers, so we can be sure to take your initial vision and create perfection.

JOE LILLYWHITE PHOTOGRAPHY – A ROUNDABOUT WEDDING PHOTO
Photograph by Joe Lillywhite Photography
Living in Winchester I regularly drive around this roundabout and I never get bored of it. I think this view really captures Winchester, it's the postcard photograph with the King Alfred Statue and Guildhall in the background. There have been many photos taken in this spot but I had been waiting for the perfect occasion to get mine. Thankfully that time came during the Boho Peakcock styled shoot in at The Guildhall, Winchester.
I wanted to create an image which captured the essence of not only the shoot but Winchester and the Guildhall as the venue. I scoped out the location and relayed my plans to the rest of the team, thankfully they were all on board, my excitement was building. We did now have the minor challenge of getting our couple onto the roundabout, no mean feat in high heels and weekday traffic! But everyone pulled together dodging cars, holding dress trains and bouquets whilst climbing up onto the roundabout (which sits about 2' above the road!). I had the shot already in my head, I wanted a casual shot with the bride leaning back against the tree but pulling her groom in close by the scruff of his tie. I feel the shot works really well and captures a natural yet engaging image which it's location is instantly recognisable.
OLIVIA GEORGE BRIDAL – A BRIDAL LOOK WITH A TWIST!
Photograph by Katherine and Her Camera
When we were asked if we'd like to be part of a peacock themed styled shoot we instantly jumped at the chance! We get to style so many gorgeously traditional bridal looks every day that we were super excited to be involved in something so quirky where we could step outside of the box!
We bought with us some of our very traditional bridal gowns; a gorgeous satin ballgown, a light and whimsical boho inspired dress and an elegant straight lace gown to showcase within the grand and traditional setting of the Winchester Guildhall. Each was styled beautifully, with very clever touches by some very talented experts which incorporate the beautiful theme – and the images really speak for themselves. But one of our favourites really shows what look you can achieve if you go for something just that little bit extra! Our navy-blue gown has a beautiful lace bodice with elegant low back, which we styled with a gorgeous navy crystal drop 'backlace' to really showcase the dramatic v-shaped back. The tulle & horsehair skirt features theatrical pickups which bring a real element of fun to the look!
Who says your wedding gown needs to be ivory?!
Photograph by Katherine and Her Camera
I was so excited to be a part of this peacock-themed styled wedding shoot and from my first chat with Laura and Michelle at Spiral Events I knew it was going to be a good one!
We wanted to create something that showcased how you can add unique and creative styling to your day, while still being relatable and achievable. I loved working with all the incredible suppliers who brought their skills and expertise to the day, and taking advantage of the amazing spaces Winchester Guildhall has to offer couples planning their weddings. It is such an iconic building and as a photographer I was really spoiled for choice of beautiful backdrops!
I love this particular photo because I really think it captures the vibe of the shoot – the fun, the colours, the wonderful mix of classic and quirky, and we took it on the Guildhall's balcony (which I didn't even know existed!) with gorgeous views across Winchester and the surrounding countryside. What more could you ask for?!
RACHEL MASLIN MAKEUP ARTIST – CLASSIC BRIDAL MAKEUP … WITH A SPARKLE
Photograph by Joe Lillywhite Photography
Photograph by Katherine and her Camera
Bridal makeup to me is makeup that enhances natural beauty and simply makes the Bride look like the very best version of herself. Looking back on Wedding photos years later, the last thing anyone would want to see is a 'trend' that made them look like someone else! Classic Bridal makeup is timeless and fits well with pretty much any theming.
The Boho theme of this shoot was behind a lot of the styling but the makeup for the model was going to be natural. I picked warm, neutral tones that suited the models skin tone and made it easy for it to fit in with both the classic neutral shots at the start of the shoot but also in amongst the array of colour ways happening throughout the boho setups. Classic bridal makeup doesn't age, and keeping everything soft and pretty with nothing harsh meant it could fit to the Boho theme especially with a flutter of false lashes! As there was the chance to change it up a bit for the 'Party' I added a bold red lip and darker eyes, topped with some shimmer … you can't have a party without sparkle can you??
Photograph by Katherine and Her Camera
I have been baking all my life, it's my happy place!
When I was asked if I would like to join the Boho peacock shoot I was thrilled… it was way out of my comfort zone as I'm known for pretty flowery cakes. So thinking cap on I can remember seeing a cake covered in pear slices so totally different, I do love to keep on trend with all my cakes…..lots of experimenting with the pear slices to get them to a colour I loved and to dry out. Well I was so pleased with the finished outcome it was totally different to anything I have seen before.
It seemed to just fit in perfectly with all the other decoration which I was thrilled with, it all came together perfectly and the day was an amazing success.
Thank you everyone for a perfect day.
Photograph by Joe Lillywhite
Rich jewel tones, luxurious fabrics and warm gold accents came together to create this opulent banquet table.
I was really excited to be part of this beautiful and creative shoot in such a stunning venue. The concept and colour palette were really wonderful and I was able to add my own spin on the design and finish of the table. Working with the boho theme and peacock colours I was able to add lots of metallic golds and soft colourful fabrics to bring it all together. The 6-metre long silk table runner in teal laid elegantly down the centre of the table, which I then finished with fresh greenery and peacock feathers in amongst the tealights. Adding coloured candles and napkins brought a modern element to keep the theme on trend, paired with baroque gold charger plates, brass candlesticks and lanterns to bring a touch of luxury which matched perfectly with the room.
When the coloured glassware, gold cutlery and gorgeous stationery were added to the table, it all came together perfectly.
Every supplier involved in the shoot were all thinking exactly the same when it came to colours, textures and styling. The day ran seamlessly and everyone worked so well together. I feel very proud to be able to work with some of Hampshire's finest wedding suppliers.
www.blackdiamondweddings.co.uk
Photograph by Joe Lillywhite
It was an absolute pleasure to be able to be apart of this photoshoot, I was asked to construct a simple arch for the main shoot with just greenery.
This was a real treat as greenery can sometimes be very understated and priority given to larger blooms that steal the limelight.
Greenery with its different shades and textures are stunning in their own right and that's what I wanted to achieve for the first arch, but also keeping it simple so the arch itself could be 'Jazzed' up for the evening.
Ruscus, Eucalyptus and Italian Ruscus formed the main base of the arch. I then added small amounts of subtle white heather just to complement the silver tones from some of the Eucalyptus.
For the evening a selection of pink roses, gerbera's and Lisianthus were added to add colour but not to overpower.
Facebook – Savoy Floristry
Instagram – savoy_floristry_
Photograph by Joe Lillywhite
I was intrigued by the name for this photoshoot and delighted it was so close to me that I could be there on the day.
There was so much crammed into this day, that I had a really hard time choosing my favourite photograph.
The dresses were fantastic and I had a very creative time choosing the jewellery to match each look. I took a selection to be sure I helped create the perfect look for each dress.
The 1st dress was a classic white dress so I choose timeless pearl and crystal jewellery to complement it. They may have been pearls but they were anything but boring.
I loved designing some new backdrop lariats to show off this blue backless dress. They had to be dainty as the dress really did speak for itself.
Finally for the real peacock look I created a pair of dramatic gold disk earrings with bright multi coloured gemstones, as it really didn't need anything else.
Jewellery should be about adding the final finishing touches that enhance and don't detract. I am delighted as I think I achieved this for all the different looks.
It was such a fun day, but very very busy. Just like dressing up for grown ups!
ONE OFF DESIGNS – ONE OFF LEATHER JACKET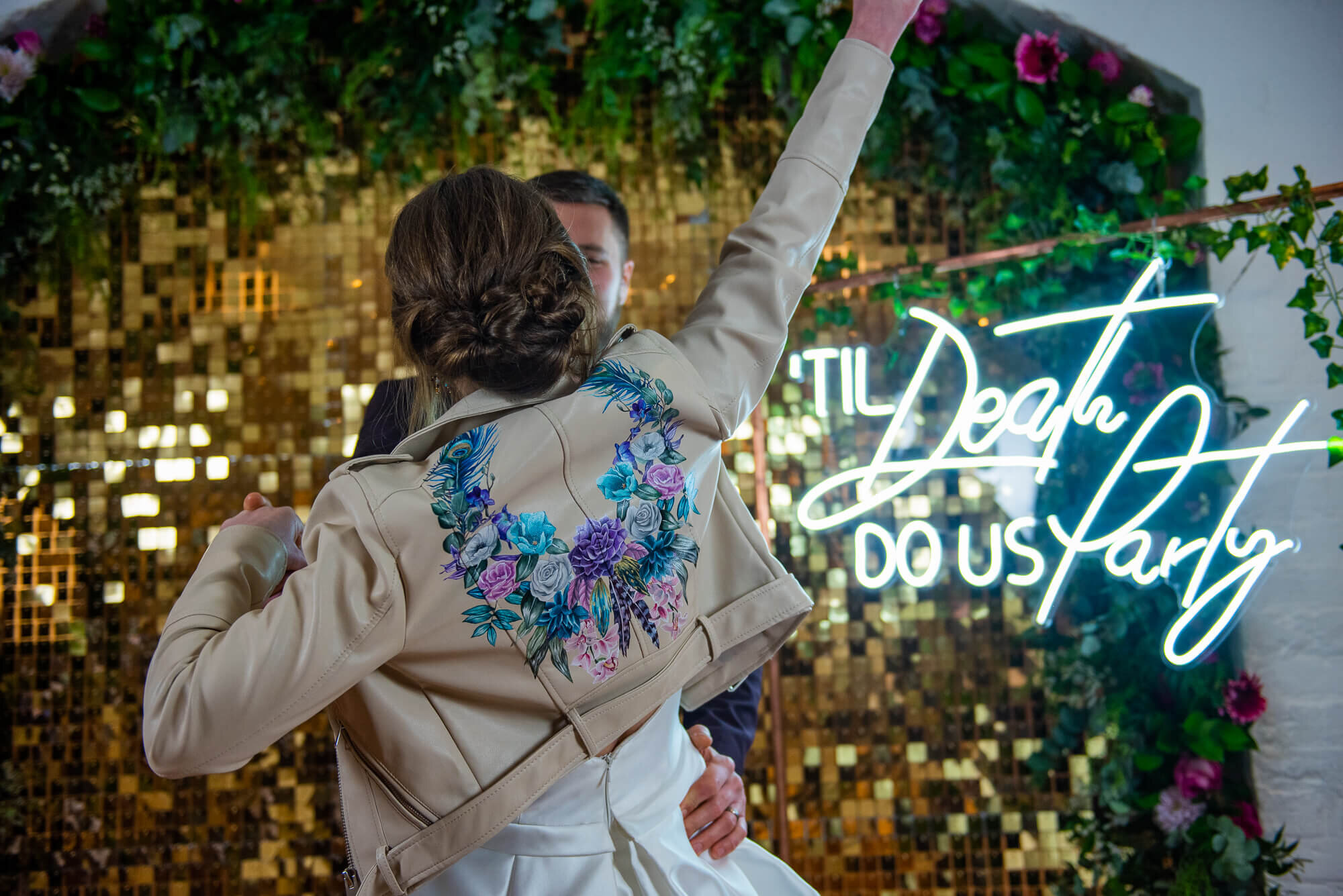 Photograph by Joe Lillywhite
As someone who is just starting out in my business for Spiral Events to contact me and ask if I would be interested in featuring in the shoot I jumped at the chance. The deadline was tight but as soon as I had the inspiration pictures sent over to me I couldn't think about anything else. With the boho and peacock theme, colours and different elements of the shoot I couldn't just come up with one design! After going through the options with the team we all particularly fell in love with one and the only decision then was jacket colour leather to choose!
The true joy in what I do come from creating something that captures the essence of a highly significant day in someone's life in a way that can be a keepsake for life. Every brides wedding day is unique to them and my role is to capture the personal themes of the event.
I have chosen the picture below as combined with the Hampshire Event Props backdrop (Hampshire Event Props) it really captures the sense of the fun and rock and roll empowerment. The bride is celebrating in style and from breaking away from the conventional wedding rules.
Facebook – Handpainted Leathers & Denim
Instagram – one_offdesigns
ALIDA K – BOHO BRIDAL INSPIRATION
Photograph by Katherine and Her Camera
Having specialised in bridal hair for many years there is not many trends I have not already seen; I have had many brides come to me with Pinterest images showing the latest plaits and twists with super trendy and modern hairstyles. However, it is my job to help create a style that is timeless that will not age in photos and that you will still love in years to come. Every aspect of a bride's style from dress to jewellery should complement each other. Nothing should take centre stage other than the bride herself.
During the boho shoot I wanted to create 3 different hairstyles that complimented the style of each set. My favourite was the 2nd style. I knew instantly when I heard the brief and saw the dress that I wanted to create a boho inspired classic style with soft flowing curls loosely (but securely) pinned to create a soft half up style, that would work effortlessly against the gorgeous flowing gown, whilst highlighting any jewellery and ultimately showcasing the brides natural beauty. I think this photo works well and captures a fun and engaging Boho Inspired image that will still be relatable and achievable in years to come.

Facebook – Alida K